Audi and LG team up to make an amazing watch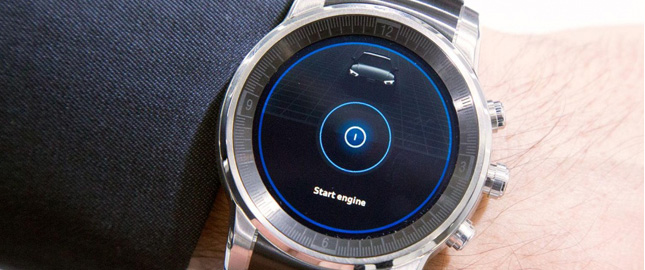 The 2015 Consumer Electronics Show in Las Vegas, or CES 2015 as it is more widely known, was the venue chosen for the introduction of the Audi LG smartwatch and it appears to have caused quite a buzz!
There have been many rumours around about the possibility of the release of a new LG smartwatch and this prototype is not only good looking but also truly "smart". Instead of Android Wear the Audi/LG smartwatch runs on Open webOS, it has a Qualcomm Snapdragon 400 processor, is water resistant and is constructed of stainless steel with Sapphire crystal and a quality leather strap.
A smartwatch can be set up to alert you to incoming calls, text messages and emails, some will even enable you to check for Facebook and Twitter notifications.  Most smartwatches will allow you to monitor your health, such as your heart rate and body temperature, they can also assist you with your fitness regime by tracking the amount of steps taken, distance covered, calories burned, etc. There are already many, many Apps available out there for the smartwatch user, such as weather updates, calendar, music, calculator, games and so on, as the smartwatch becomes more mainstream the amount and range of Apps available is certain to soar.
Audi and LG have not released a great deal of information about their smartwatch, reports of its features are varied and include cellular connectivity, smartphone camera control, health and fitness tracking, etc. However, the feature that has caused the buzz and got everyone excited is the one that enables you to pair with your car, using NFC. Near field communication (NFC) allows you to use the smartwatch as your set of car keys, all you need to do to unlock or lock your car is to simply tap the door handle, having gained access you can inform your car that you are inside by tapping an NFC enabled panel and then switch on the engine by tapping the "start engine" button. No keys required! It has been reported that this smartwatch can also control the stereo and adjust the settings for the vehicle's climate control.
Head of Research and Development at Audi, Dr Ulrich Hackenberg, demonstrated the prototype of this incredible smartwatch at CES 2015 by using it to start an Audi Prologue and driving it onto the stage, Dr Hackenberg said "If I want to stop the engine, I can do that again with my smart watch".
No price or launch date have been released for the Audi LG smartwatch, even its name remains a mystery, although it is widely expected to be available in the early part of 2016.
Special Thanks Nick Jaynes for providing the image