Are you sitting comfortably?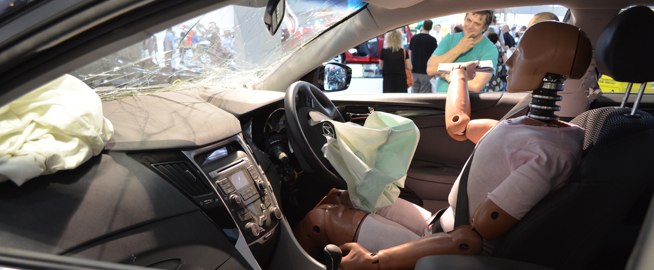 Experts have warned that many motorists are risking pain and injury, simply by driving whilst sitting in the wrong position. Commuter figures for England and Wales show that more than 15 million of us drive to and from our place of work every day, with driver numbers increasing every year and sitting for long periods in traffic jams becoming almost an expected part of any journey, it is important that we all pay attention to the advice given and try to reduce the impact on our health by just making a few small adjustments.
The British Chiropractic Association (BCA) has released figures showing that as many as 32,000 people a month need to make an appointment with their Chiropractor for treatment of injuries which are either caused or aggravated by poor driving posture.
The Chartered Society of Physiotherapy (CSP) has claimed that even the daily commute can cause future problems for any driver who fails to make adjustments to their steering wheel and seat to ensure their posture is correct. Awareness of posture is extremely important whilst driving, consistent poor sitting posture may be a contributor to musculoskeletal discomfort or pain which may at first be minor but could still require treatment. The CSP has published a guide called "Drive Clear of Pain" which offers step by step advice about achieving correct driving posture and also gives details of simple exercises to help reduce any physical problems caused by driving position.
Here are a few hints and tips to help ensure you always have perfect driving posture:
Your vehicle seat should be positioned so that it is slightly leaning backwards
You should sit up and never slump whilst driving, back straight and shoulders back
Your lower back should be fully supported; if necessary you should place a small cushion, pillow or rolled up towel in the small of your back to achieve this support
Try to drive with your hands in the twenty to four position instead of the ten to two position, this will help relax the muscles in your shoulder and keep your elbows at a comfortable angle
The seat belt should rest across the top of your shoulder
Only adjust your vehicle mirrors when you feel comfortable and happy that your driving posture is correct
Never drive with your wallet in a back pocket
Keep your seats in good condition, a sagging seat will not give correct support and may even be dangerous
When on a long journey always ensure that you leave enough time to take regular breaks, at least every two hours, get out of the car and stretch your legs and arms
Have you thought about exercising when waiting at lights or stuck in traffic? It can really help. Shoulder circles and shrugs, bending sideways and buttock clenches are all good exercises you can do whilst at the wheel, not advisable when your vehicle is in motion of course.
The "Drive Clear of Pain" guide can be found here http://www.csp.org.uk/publications/drive-clear-pain
Special Thanks Simon Yeo for providing the image.