Tax Disc Paper Runs Out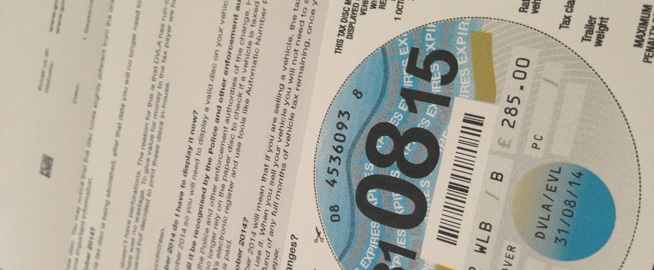 Motorists in the UK will not be required to display a paper tax disc in their vehicle from 1st October 2014, amusingly the Driver and Vehicle Licensing Agency (DVLA) has run out of its own supply of specially perforated tax disc paper a little early and has been forced to resort to printing tax discs on ordinary printer paper with ordinary printers! The DVLA said "DVLA is running down its pre-existing stock to ensure there is no wastage. To give value for money to the tax payer we have not replenished our stock for this short period but decided to print these discs in-house until October 1". If you have taxed your vehicle online you will receive a sheet of printer paper upon which your tax disc will be printed, there will be no perforations and you will be required to cut the disc out yourself before displaying it on your windscreen, the DVLA statement also said "The paper used to print your tax disc is different to that used previously and there are no perforations". If you buy your tax at your local post office you will probably receive the old style, perforated tax disc as the post office supplies have not yet been depleted.
Although the start of October is fast approaching it is quite surprising to hear that almost a third of drivers in the UK have no idea about the changes that are soon to be introduced, this with only a few days left before we reach the end of September! The President of the Automobile Association (AA), Edmund King, said "Abolition of the disc has a big impact on those changing their cars post October 1st and drivers need to know the rules. We have shared our concern with DVLA so hopefully they can ensure more information is put out." The DVLA said "We have told the police and other enforcement authorities that we have issued these discs however the paper disc is no longer relied upon to check if a vehicle is taxed or not." This could well turn out to be an issue for some drivers with some motoring experts predicting that many confused motorists will be facing fines for unwittingly failing to follow the new rules.
We wonder how many fake tax discs will be displayed upon windscreens before the 1st of October, the printed versions sent out by the DVLA will be so easy to change by anyone with a scanner and a basic knowledge of using a computer. The experts agree with us, President of the AA, Edmund King, said "It is ironic that after years of trying to deter bogus or fake tax discs such as those made out of Guinness labels or photo-copies, the DVLA now have to produce their own 'fake' discs as they have run out."