The New VW Phaeton Is Ready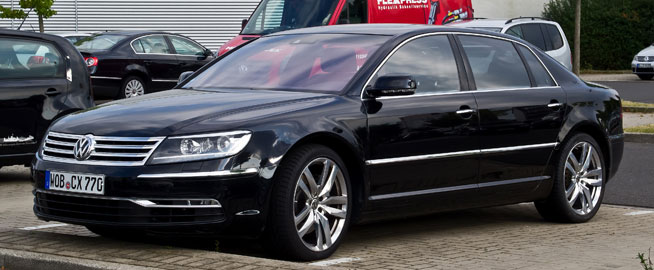 The new VW Phaeton is ready for production, but is deemed too pricey to build. It has been reported that Volkswagen are delaying the launch of the latest Phaeton Luxury saloon, despite development being completed, as they need to reduce the cost of production and materials.
Originally designed by Ferdinand Piech to compete with the Mercedes Benz S Class, the VW Phaeton was launched in 2002, the large German saloon was hand built in the same factory as the Bentley Continental GT, with both luxury vehicles using the same underpinnings. Ferdinand Piech is no longer a part of Volkswagen, having resigned in April 2015; this may be part of the reason why the decision has been taken to cut the costs of producing the Phaeton. The luxurious saloon was said to be capable of maintaining 186 miles per hour in temperatures of 50 degrees centigrade, at the same time allowing those on board to enjoy an interior temperature of 22 degrees centigrade.
Latest reports from Bloomberg have said that sales of the VW Phaeton have been in decline for years, sales of its main rival – the Mercedes Benz S Class, reached 100,000 last year, quite a staggering comparison to the rather paltry 4,000 sales of the Phaeton. Those sales figures for last year show a drop of 30 per cent, making it the lowest volume for a current VW production vehicle. Market researcher at IHS Automotive, Tim Urquhart, spoke to Bloomberg and said "There is always the element of the Phaeton being the answer to a question no one ever asked", he voiced surprise that VW is sticking with the model, saying "and given the current drive to save costs at VW, it is even more lucky to survive".
Volkswagen has not released any details of its new flagship model but it is widely expected to remain a large, four door luxury saloon – although perhaps not as luxurious as originally intended by Ferdinand Piech. Many in the industry have suggested that the VW Phaeton could end up as an Audi A8 in disguise, sharing almost all but the sheet metal, which is ironic as it has very often been viewed as an unnecessary competitor to the Audi A8. Production is not likely to be shifted to China to save costs so it will be interesting to see where savings will be made.
Of course all of this could be about to change following VW's admission of rigging emission tests and the resignation of Martin Winterkorn, there are even some who are calling for the return of Ferdinand Piech.
Special Thanks Dein Nordrhein-Westfalen for providing the image