Renting your car to a complete stranger?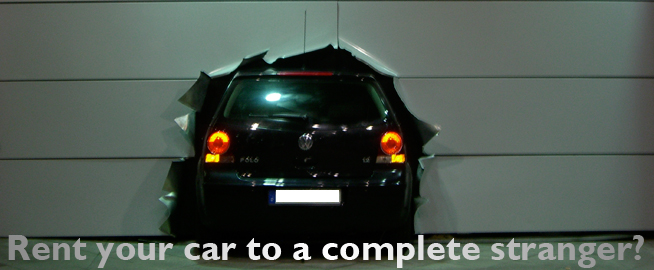 How would you feel about renting your personally owned vehicle out to a complete stranger? Happy to do it, uneasy about it or no way, absolutely not!?
It seems that lots of us are indeed prepared to take the risk and are making money by renting their vehicle when it's not being used, it's an easy way to make some money and, compared to the "regular" car hire company charges, a cheaper option for the person who is renting.
Piloted in London, these "car clubs" are now popping up all over the place, although most of the vehicles currently advertised are in the London area and it may take a little while for the rest of the UK to catch up. Generally the owner of the vehicle sets the rental charge and the car club takes a percentage of that fee, the company provides comprehensive insurance and breakdown cover, it seems like a good deal. Of course there are restrictions on the kind of car, to be accepted it must be within insurance groups 1 to 32, it should be 10 years old or less, have no more than 120,000 miles on the clock and a replacement value of £25,000 or less. The car club company vets both owners and drivers, one company claims even stricter checks than a bank would make, and all vehicles are given a thorough inspection, usually by the company providing the breakdown cover. The owner of the vehicle normally meets the person renting to hand over the keys, which is understandable, but a remote hand over can be arranged using a secure key safe with a single use PIN code to access the keys.
It all seems like a really good idea, ideal for those who have a car just sitting in their garage hardly used all week and perfect for those who can't afford or don't want the expense of running their own vehicle. There are however, quite a number of dissenting voices out there with many questions being raised about viability of this kind of operation, for instance the fact that the owner would not know how their vehicle would be treated, would it be thrashed and trashed? It is to be expected that not everyone would treat it with respect and who would pay for the extensive valet that may be required to bring it back to pre-hire condition? What about the extra mileage reducing the value of the vehicle? Who would be liable for the failure of a mechanical part – which could amount to a significant sum of money?
We will just have to wait and see whether or not this will prove to be a success, watch this space!