Range Rover Rips The Roof Off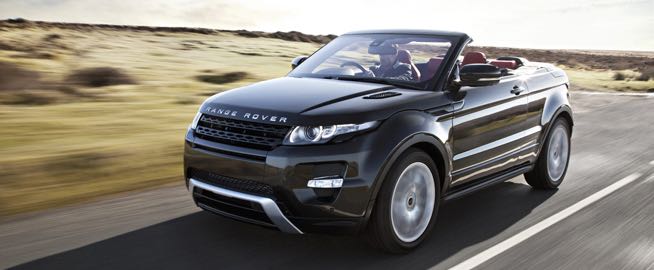 Land Rover has confirmed that it will be presenting the new Range Rover Evoque Convertible to the world in 2016; the new luxury cabriolet was announced in a rather unusual way – by the release of a short film showing the prototype being put through its paces, forty metres below the streets of London! An official Land Rover marketing website tells the tale of how the new convertible was "granted exclusive access to the 26-mile (42km) network of Crossrail tunnels for a development test with a difference". The opening scene of the film shows an aerial view of the streets of London at night with street and building lights sparkling, then a smattering of famous London landmarks before the disguised Evoque convertible is shown being lowered on a platform down into the Crossrail tunnel system by crane. Director of Land Rover Programmes, Murray Dietsch, said "The tunnels are still under construction, so we had a unique opportunity to explore the vehicle's all-terrain ability in unchartered territory." The film, titled "Range Rover Evoque Convertible revealed testing at Europe's largest construction project", shows the Evoque with its roof down, deftly handling a series of obstacles in the 6.2 metre diameter tunnel network before being driven up a ramp into the interior of a truck, the truck tailgate is raised as the words "Range Rover Evoque Convertible" – "Capability, performance and comfort" – "tested to Land Rover's rigorous standards" are displayed, followed by On Sale 2016. The Land Rover website has a series of films about the Evoque Convertible, covering design, capability, infotainment, driver aid technologies, safety and the Z-folding roof. The website quotes a maximum length of 437.0cm, width 208.5cm and height 160.9cm with a combined fuel economy of 49.6mpg, there will be two models of the Evoque Convertible available, the HSE Dynamic from £47,500 – described as a convertible for all seasons and the HSE Dynamic LUX from £51,700 – described as a technologically driven open-top for all seasons. Both models will have the choice of a TD4 diesel engine or a Si4 petrol engine. The new convertible is to be built at the Land Rover Halewood plant, alongside the five door and coupe Evoque models.
This is not the first time Land Rover has gone subterranean, the five door Evoque was driven through Edge Hill Tunnel in Liverpool when it was launched in 2011.