No Compare!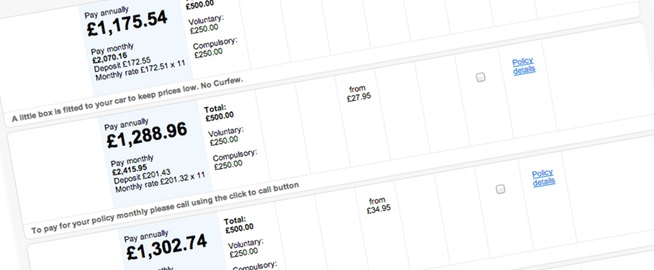 The Financial Conduct Authority is set to investigate price comparison websites (PCWs) to determine whether customers are being misled.
The financial watchdog will focus on the 14 largest price comparison websites, which account for 90% of the PCW market, in an effort to identify any possible conflict of interest and discover whether consumers are being directed towards certain deals which might be the cheapest but then prove unsuitable at the time of a claim. The Financial Conduct Authority says it is to focus on motor, home and travel insurance as these are the most popular insurance products purchased via price comparison websites.
Consumers once dealt directly with insurance companies or through high street insurance brokers but now, with expensive premium line phone numbers and equally pricey city parking, buying online seem to be a much more attractive option. Easy to use and a quick and convenient way to buy motor, home or other types of insurance, price comparison websites have become increasingly popular over the past few years, but have buyers inadvertently opted for insufficient cover because it was a good price or are we buying add on products that we don't need without even realising it?
Although the FCA say there is no suspicion of deals being misrepresented, it will investigate to see if some deals were being promoted above others and examine cases where price comparison websites were actually owned by insurance companies, creating the potential for a conflict of interest – for example Confused.com is owned by the insurance group Admiral and Esure owns 50 percent of GoCompare.com. The regulator will examine if the consumer is "misled into purchasing products or add-ons which do not meet their needs" and "when someone searches for something, are they necessarily getting the best deal for them, or are they just getting the deal the website want to give them?" It will also question "whether the customer or profit is really at the heart of a business model", warning that "price isn't necessarily the best marker of an insurance deal". Records show that almost half the people using the internet have visited a price comparison website searching for car insurance, with 80 per cent of them going on to make a purchase. Clive Adamson, Director of Supervision at the FCA said "We've all used a price comparison website so we know how simple they make buying motor, travel or home insurance. We don't want to lose that convenience, but we do need to ask the question, 'does cheapest equal best?' In May 2013 the consumer group Which learned that only a third of price comparison websites offered the best price to consumers, regardless of the quote supplier. Comparing five like for like quotes for car insurance using ten price comparison sites, it found the results differed by over £1500! Richard Lloyd, the Executive Director of Which, said "we welcome the Financial Conduct Authority's review into price comparison sites", he also said "we want comparison sites to treat customers fairly by being upfront that they don't cover the whole market and more transparent about what is and isn't included in the policies they're selling." Mr Lloyd added "we found they claim to do all of the work for you but they don't always guarantee people the best deal or even the right one.
One price comparison website that has responded to the issue is Moneysupermarket, their statement insisting that it is an independent company with no ties to any insurance group. A spokesperson said that the company helped people to find the same cover for less and if a policy offered no breakdown insurance, for example, the extra cost of adding that would be shown. Moneysupermarket said it gives customers the information they need to save money on the products that suit them, it said it did not receive any commission for its services but instead received a flat fee when a customer bought a policy which was "completely independent" of policy price.
We contacted a few of the major UK price comparison websites and asked for their comments on the FCA investigation. Gocompare.com were the first to reply and kindly gave us the following statement:
"Gocompare.com is and always has been happy to work with the FCA on their reviews into the price comparison industry. We are firmly committed to keeping our customers at the heart of our business and welcome any opportunity to improve our industry and the service that we provide. Gocompare.com is still the only price comparison site to be invited to be a member of BIBA (the British Insurance Brokers' Association), in recognition of our commitment to helping consumers make informed decisions by displaying policy information, not just price. We have recently enhanced this further through an exclusive partnership with independent financial research company Defaqto, enabling our customers to compare up to an additional 30 features of cover on our home, car and pet insurance comparison services. Through increasing the level of detail that our customers can see, and making it easily accessible, we hope that it will lead to more informed decisions and help people buy the right level of cover for their requirements."
Confused.com also kindly replied and their statement is shown below:
"As the FCA has said, price comparison sites have helped millions of consumers over the years.  We believe that is the case, in particular the help Confused.com has given to millions of people every year for the last decade.  We will give our full cooperation to the FCA during this study."
The Financial Conduct Authority has the power to impose fines and demand that changes be made to advertisements and promotions, the regulator can also order the payment of compensation to consumers.
The FCA does point out that price comparison websites "perform a valuable service for millions of people, bringing convenience and simplicity to buying financial products online" but that "the FCA wants to ensure that their rapid growth in popularity has not come at the expense of transparency and fairness."
It has to be said that not all insurance companies are listed on price comparison websites, including two of the largest insurers – Direct Line and Aviva. An Aviva spokesperson said "Aviva's direct products came off price comparison websites in 2008. This is because we want our customers to come directly to us for our best prices, offers and deals."
The results of the investigation and also any action that the FCA expects insurers and price comparison websites to take are to be published in 2014.
http://www.fca.org.uk/news/the-fca-launches-review-into-price-comparison-websites