It Seems You Can't Trust Audi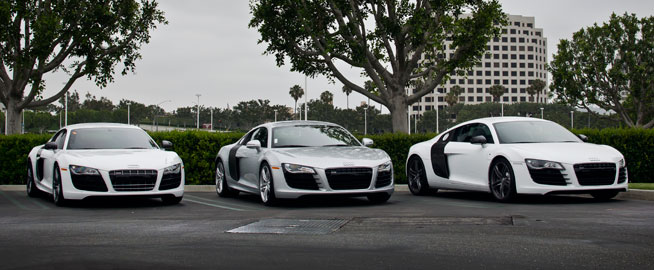 A recent BBC Watchdog investigation has uncovered widespread lying by Audi regarding the safety testing of their cars. The BBC was initially contacted by the owner of a prestige car hire business, Mr Daniel Jenkins, who had purchased an Audi R8 in December 2012 from his local Audi dealership after being told the vehicle had scored a five star Euro NCAP safety rating – when in fact it had not been tested at all. Mr Jenkins' father was driving it some months later when he was unfortunately involved in an accident and, although the safety aspect of the R8 was in no way responsible for the accident, Mr Jenkins thought he would carry out some personal research to check up on what safety rating the Audi R8 had officially been awarded. He contacted 50 car dealers and this is what he told Watchdog "Forty-eight of the 50 dealers I spoke to told me directly that it had been put through the Euro NCAP programme and it had a five-star rating." Following these shocking results Mr Jenkins contacted Audi head office and informed them of his findings, Audi head office said they would carry out their own investigations but it seems that nothing was done because when the BBC Watchdog investigation began their research they experienced the same kind of false claims regarding safety tests. Undercover Watchdog researchers confirmed that after visiting dealers in several areas of the country, nine out of ten of those dealers made false claims that the Audi A5 had been Euro NCAP safety tested – six even claimed the Audi had achieved the maximum five stars!
The Head of Policy for the Institute of Advance Motorists, Tim Shallcross commented "I find it absolutely incredible to be honest, that a company of the reputation of Audi, and their parent group, the Volkswagen Group overall can allow their product to be misrepresented so badly in that way. He added "Nobody's saying the cars aren't safe, but if they haven't been tested, they haven't been tested. To say they have, that's outrageous."
It is not a legal requirement for any car to be Euro NCAP tested, but it is certainly not correct for any manufacturer to claim a vehicle has been tested when it has not, let alone falsely claiming the maximum five stars had been achieved! The Audi A5, A7, A8 and R8 are not Euro NCAP safety tested. Mr Jenkins said "I spent a year of my life proving they were misrepresenting the cars in the showroom. For me to notify them and them not to action anything but say they are taking it extremely seriously, that is extremely negligent. That is what annoys me the most."
Audi insisted that its cars are "engineered to exceed international motor vehicle safety standards" and a spokesman said "Audi UK wishes to emphasise that there has not been any deliberate intent to mislead on the part of its customer-facing staff where the Euro NCAP safety test performance of the Audi model range is concerned." Audi added "Audi UK accepts that this investigation has brought to light a shortfall in its communication procedures where the NCAP safety ratings of its range are concerned. "We also acknowledge that we did not adequately address this shortfall when it was brought to our attention by Mr Jenkins, and on both counts we apologise unreservedly."
We wonder what the legal implications are in this matter, is Audi liable where refunds are concerned – either partial or even in full, because they have misled their customers? It is certainly something to consider as there are sure to be customers who made a purchase because they were told the car they were considering had achieved Euro NCAP safety test standards.
Special Thanks Axion23 For Providing The Image