First ever recorded crossing of Saudi Arabia's Empty Quarter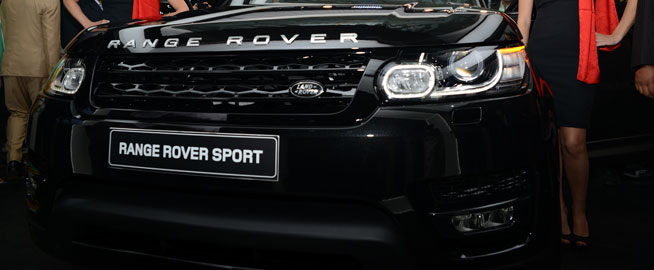 At the end of last year a Range Rover Sport accomplished the first ever recorded crossing of Saudi Arabia's Empty Quarter by a standard production vehicle
The 2014 Range Rover Sport, driven by Moi Torrallardona – a 47 year old Spanish off road racer of 10 Dakar Rallies – set off on 3 November from Wadi Adda Wasir, Saudi Arabia and arrived 10 hours and 22 minutes later in the United Arab Emirates, having set a record time for crossing the inhospitable desert and driving straight to the Dubai Motor Show.
The Empty Quarter, or Rub' al Khali, is one of the most challenging environments in the world with day time temperatures reaching more than  50° C, it is the largest sand desert and the second largest desert after the Sahara and spans Saudi Arabia, Oman, the United Arab Emirates and Yemen. The Range Rover Sport – 510PS 5 litre supercharged V8 petrol engine, was a completely standard model, apart from the addition of a skid plate to the underside to help it cope with the brutal terrain, the 527 mile route took it from east to west at an average speed of 51.87 mph.
Moi Torrallardona said: "The challenge of the desert is like nothing else, it is a brutal, unforgiving and sometimes deadly environment. Desert driving requires a unique combination of speed, finesse and technical skill. It is crucial that you tackle the dunes with precision. Knowing the right time to go full throttle and the right time to slow down, takes experience and clear judgement. This unique way of driving requires a vehicle which has the same skillset – it must be both incredibly fast but also agile, responsive and well planted. The Range Rover Sport is exactly that. It is massively capable and is truly the best tool for conquering the desert." Mr Torrallardona actually finished the race alone when he lost radio contact with his support vehicle after driving over a 200m high sand dune!
Special Thanks Land Rover MENA for providing the image.