Audi RS5 abandoned in flood water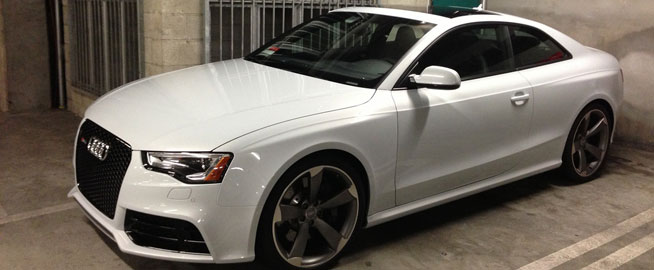 A fabulous Audi RS5 that had been left abandoned in flood water has been completely stripped down to its chassis by thieves
In early January the UK weather had been awful and the £60,000 grey Audi RS5 had been abandoned in three feet of water under a railway bridge in Chertsey, Surry. One local resident said "The car was abandoned just after New Year's Day. That road was pretty badly flooded, and was closed for ages. At first someone just smashed the windows, but over the last month, more and more parts have been pinched from it".
The stunning 4.2 litre V8 luxury sports car was once capable of 0 – 60mph in 4.5 seconds and reaching speeds up to 175mph, now it has been picked apart by vandals behaving like vultures feeding on a carcass. Another local resident said that they had noticed the Audi abandoned in the flooded road on January 2 and had tweeted a picture, mainly to alert people of the road closure. They added that they had driven there several times afterwards in the hope that the road was open again and had watched the Audi gradually deteriorate, the windows were smashed, a bollard was placed on its roof and it was generally vandalised. "Today I found the road open and stopped to inspect the Audi. I was shocked at how much had been stripped from the vehicle."
The speed at which this once beautiful car was stripped is astonishing, parts for this car will certainly be expensive and there is little doubt that the parts stolen from this Audi will be appearing in classifieds and online auction sites, it is to be expected that the police and insurance investigation teams are watching out for any suspicious ads.
Surrey Police say they have no record of the car being reported as stolen and they are investigating the incident as a case of criminal damage.
Special Thanks Christian Lau